When you're planning a vacation to get rid of all your stress and completely relax yourself, there are a lot of wonderful remote hotels around the world that allow you to enjoy your great moment with your family or couple!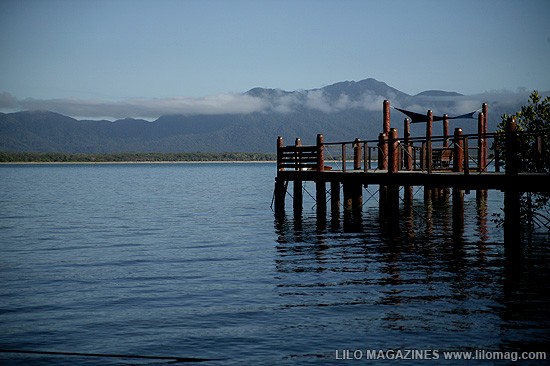 1 ) Bloomfield Lodge, Cairns Australia
Beneath a canopy of foliage, a bewildering array of plants jostle for supremacy in this, the largest stretch of tropical rainforest left in Australia. Evolution has continued here, virtually undisturbed, for at least 100 million years; the result is a stunning gallery of nature's greenest handiwork. Bloomfield Lodge nestles here within this magnificent ecosystem on the shores of the Coral Sea, offering a unique and relaxing way to experience the tropical rainforest. With a maximum of 34 guests, Bloomfield has an intimate, relaxed atmosphere, with no pressures, no formalities, no interference from the outside world. Dress is informal, activities are optional (though very popular), and you will return home refreshed and invigorated from your stay.
2 ) Winterlake, Alaska
Extremely remote, yet extraordinarily luxurious. For many, tiny Winterlake Lodge and its sister property, Redoubt Bay Lodge, are the quintessential Alaskan wilderness lodges. Winterlake is for those who truly appreciate—and can afford—to stay in the middle of nowhere, surrounded only by Alaska's glorious nature. Winterlake Lodge is so remote, in fact, you'll have to take a float plane just to get there. But once there, you'll discover cozy, first-class lodges, gourmet meals, and amazing day trips. The lodge's hosts, Carl and Kirsten Dixon, have created a rustic yet upscale approach to the wilderness lodge. They're true Alaskans who have home schooled their children and created this family-run business—and their love of nature, food, and people comes through clearly.
3 ) Kokopelli's Cave, Farmington, New Mexico
Retired geologist Bruce Black wanted to build a cave, so he gave some laid-off Grants miners $20,000 to bore as deeply as they could into the side of a cliff face. This luxury apartment was the result. Built in a semicircle, both the entry hall and the bedroom have wide sliding glass doors leading to little balconies beyond which the cliff face drops hundreds of feet below. This really is a cliff dwelling, and you must hike a bit down to it, though good guardrails guide you. The apartment is laid out around a broad central pillar, and the ceilings and walls are thick, undulating stone. A grill is outside, as are chairs where you can relax in the mornings and evenings. Fruit, juice, coffee, and pastries make up a self-serve breakfast.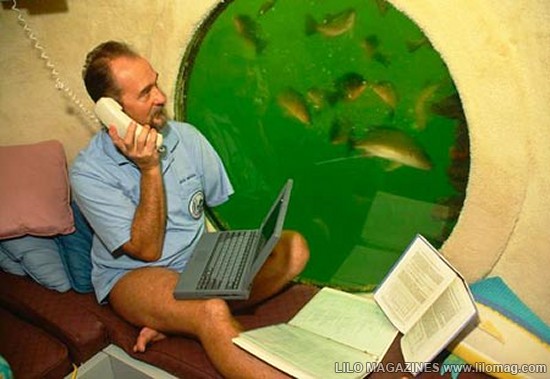 4 ) Jules Undersea Lodge, Florida
The Jules Undersea Lodge in Key Largo Florida was just recently among the top ten most remote places to stay. When it comes to getting away from it all, this motel is true to that as it requires guests to scuba dive down twenty-one feet through a lagoon for entrance. Forbes puts Jules Undersea Lodge among The World's Most Remote Hotels list they unveiled just recently. Most other undersea hotels require walking down to them somehow, but not Jules, which requires scuba diving to the former underwater research lab in Key Largo. Apparently the accommodations are pretty slick, although the amount of space for you and the rest of your group isn't too vast. Guests sometimes describe their visit to inner space as the most incredible experience of their lives. One couple decided on a career change after visiting Jules' Undersea Lodge, and they now operate Aquanauts' Dive Shop. Another couple named their baby after Jules', when they later discovered their recently conceived child had accompanied them in their wonderful adventure in undersea living.
5 ) The Andean Cottage, Peru
Andean Cottage is part of the Suasi Island Hotel, Peru's only solar-powered hotel. Situated 12,500 feet above sea level and surrounded by Lake Titicaca, the cottage location is only accessible either via an arduous drive or a three-and-a-half-hour speedboat trip across the lake. The cottage itself is a cozy suite built entirely out of traditional materials including stone, wood and totora reed and includes two rooms, a private bathroom, living room and kitchenette. Indulge in private butler service and head out to the pier to soak in the lake views. There are plenty of trails to check out, and you can visit Andean farming plots or take a canoe ride around the island. The cottage features a large living room and bar, and a 2nd bedroom with 2 double beds. Each room in the suite has large picture windows with lake-level views. At night, a personal bilingual butler (on call 24 hours) arrives to light the 2 wood-burning chimneys in the cottage, and dinner can even be delivered if you prefer to dine in the cottage or on the deck.
6 ) The Beach House at Manafaru, Maldives
The Beach House at Manafaru Maldives recreates the style and charm of traditional Maldivian hospitality, while seamlessly blending Asian traditions of simplicity and elegance to its overall appeal. The resort offers a level of serenity unsurpassed in the Maldives. Sleek, contemporary and sexy, The Beach House offers unparalleled luxury to the discerning few. Each villa and suite offers a private pool, complete privacy and a personal butler to pre-empt and exceed your expectations. World-class cuisine from all corners of the world combined with countless on- and off-shore recreational facilities round up the truly supreme character of the The Beach House at Manafaru Maldives.
7 ) Desroches Island Resort, Seychelles
Desroches Island, remote and unspoiled, is the largest island of the Amirantes group situated 250km or a 35 minute flight from Mahé. Secreted beneath the shade of coconut palms, the Desroches Island Resort has immaculate beaches, crystal blue waters and is protected by its own coral reef. The resort boasts 20 Junior Suites against a backdrop of powder-soft sands and waving palms. Rich in corals and marine life, Desroches offers excellent opportunities for diving, deep-sea and fly-fishing and other facilities such as windsurfs, canoes, pedalos and laser mini-sails.
8 ) Hotel Arctic, Greenland
Hotel Arctic, the world's most northerly 4 star hotel with a 5 star conference centre. Right on the edge of the Ilulissat Ice Fjord – a wonder of the world which is on the UNESCO World Heritage List – and well within reach for everyone who wants the experience of a lifetime. Hotel Arctic has 87 rooms – all of which have a view of the Ice Bank, Disko Bay or Ilulissat town. Rooms in all categories naturally have all the comfort the guests expect. There are disabled-friendly rooms and facilities so the unbelievable Arctic experience is available for everybody. In addition there are five absolutely unique two-person igloo cabins made of aluminium that are available from May to October and provide a front row view of the Ice Fjord. The igloos are located at the end of a wooden causeway just a short walk from the hotel but in many ways they are in a totally different universe.
9 ) Petit St. Vincent Resort, St. Vincent and Grenadines
Petit St.Vincent (locally known as PSV) lies 40 miles south of St.Vincent in the Grenadines; a group of islands sprinkled across the most beautiful stretch of water in the Caribbean. Part of the Windward Island chain, the Grenadines drift southwesterly from St. Vincent, the largest of more than 30 islands that make up the nation of St. Vincent and the Grenadines. Petit St. Vincent is a romantic paradise of softly rolling hills spread over 113 acres, surrounded by two miles of white sand beaches. PSV has 22 discreet and simple, yet luxurious cottages. Experience total privacy. Lying well off the tourist mainstream, PSV has no airport, no formal check in, no keys. There are no televisions or telephones in the cottages, just a simple flag system for communication with the attentive staff. It is the perfect Caribbean hideaway.
10 ) The Garvault Hotel, Scotland
The Garvault Hotel is set in one of the last great wilderness areas of Britain and is the most remote hotel in mainland Britain. Nestled in the shadow of Beinn Griam Mor overlooking the forest framed loch Rimsdale and surrounded by vast rolling heather clad hills the Garvault hotel has fantastic uninterrupted views over the unique landscape of flow country. At the Garvault hotel, we always offer a warm welcome, with a traditional peat fire, relaxing atmosphere and comfortable lounges we strive to make your stay more peaceful and comfortable than you could have thought possible. Relax in the hotel's comfortable lounges, enjoy good cheer in the hotel's fully licensed bar, dining room and pool table. All of the Garvault Hotel's rooms have either a private bath or shower and there are stunning views and plenty to keep all the family occupied.
reference link : Forbes
VAi